I've only been at this blogging thing a couple of months, and already I've met some fun people and read some great posts! One of Gracie's favorite things to do is Hop, Hop, Hop! (Thank you Elmo...)
So when I saw this on another blog, I had to join. It just looked like too much fun! If you enjoy reading blogs, there is a lot of variety already popping up on this one. My favorite so far is "Always Room for Pie"... she is a riot! I have sent a request to my "Guest Blogger" friend, so hopefully you'll be seeing her post here soon.
Here is the info on how to have a hopping good time!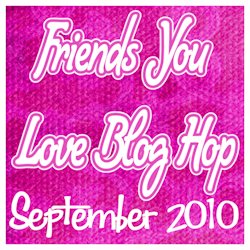 Welcome to our first Friends You Love Blog Hop!
This month is about building friendships and making our existing friendships stronger...
We challenge you to dig into your "followers" list and find a follower you don't know well and reach out to them and ask them to do a guest post on YOUR blog. Link up with your guest post and have your new friend (guest poster) link up as well!
We will be running this blog hop every Monday this month, so spread the word, spread the love, and darn it, go make some new friends!
Links to the blog hop can be found at the bottom of the page... so please join in!